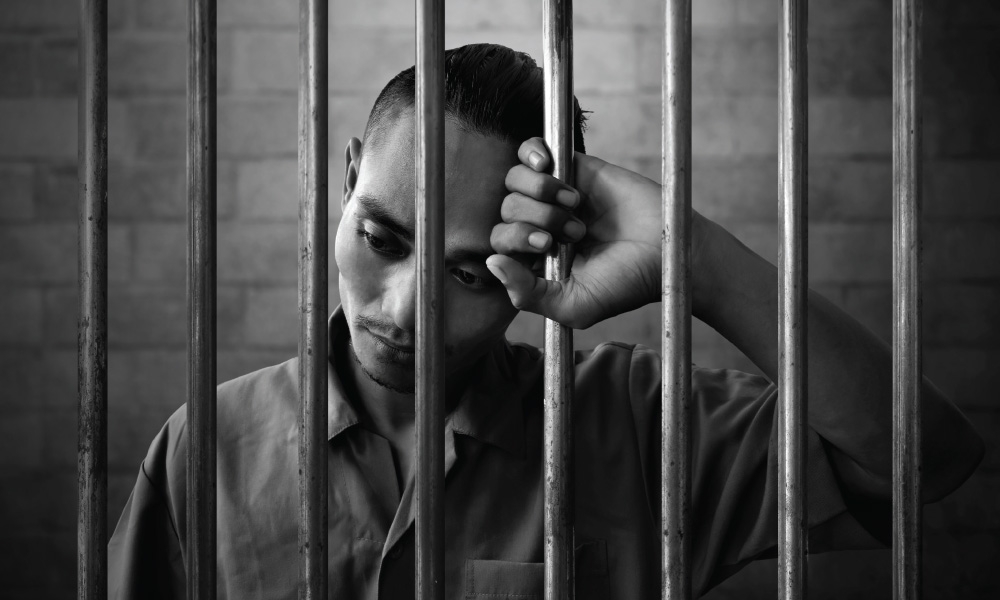 ---
"I was in Prison, and You Visited Me"
A reflection by Jeff Jacobs of Kairos Ministry
I'm standing in the middle of Charlie yard at Salinas Valley State Prison, and I can't help but wonder how a basketball got caught in the barbed wire situated atop the 12-foot cement walls. The curled and spiked wire is reminiscent of Christmas tinsel. Above it, guards and snipers stand watchfully on the catwalks.
An Abundance of Time
I am a long-time volunteer with Kairos Prison Ministry. The Greek word kairos refers to how we measure the quality of our time. It's often used in Catholic spirituality to refer to 'God's time.' Kairos is distinct from chronos, chronological time the way it is measured on earth, representing the type of time these men have in abundance.  Kairos' ministers seek to fill their chronos with Christ's loving kairos.  Our ministry is inspired by the scripture passage, "I was...in prison, and you visited me." (Mt 25:36 NABRE) We are a lay-led, ecumenical initiative present in over 475 prisons in nine countries. During our visits, while we try to share Christ's transforming love and forgiveness with the incarcerated, the ministry itself is personally transformative.  I have become confident in the knowledge that no one is defined by either our greatest accomplishment or by our worst transgression.
You can't out-give God
A popular saying here is, "You can't out-give God."  Kairos visits are enriched by the men's openness to share what life is like behind prison walls. We discuss topics ranging from racism and classism to family, relationships, gang life, and even prison riots. Regarding this last topic, they are always aware of the reality of violence amongst the inmates, which could erupt at any moment. As one man shared once, "A riot can break out at any time. When that happens, you are in the middle of things with bullets flying, knives out." He then reassured us, "If anything breaks out, don't worry. We got your backs."  And I am confident that is true.
Inspiration and Challenge
Initially, curiosity led me to Kairos, and now this ministry is a lever of gratitude, helping me consistently recognize the blessings in my life. I am occasionally challenged by periodic thoughts that I have nothing to offer them since our life experiences are so vastly different. But these differences help us minister to each other, with the "men in blue," as we call them, providing as much spiritual insight to us as we offer them.
"Keep them safe."
As we conclude our day's visit and the men make their way back to their cells, I find myself whispering a simple prayer under my breath, "Please keep them safe." Making our way out through Charlie yard, my eyes drift once again to the basketball in the barbed wire.  Not unlike my temptation to ask each "man in blue" how he got here, I curiously wonder how the basketball got ensnared atop the 12-foot wall.  It is a good reminder that the point isn't how we got to this place but what we make of God's time while we are here.
---
Jeff Jacobs is an executive coach and facilitator who serves on two non-profit boards and is a student of compassion and mindfulness. He is working on his first book, Still Coming of Age.  Jeff and his wife, Irene, have been married for 32 years, have two adult sons, and attend Mass at St. Christopher Church in San Jose.