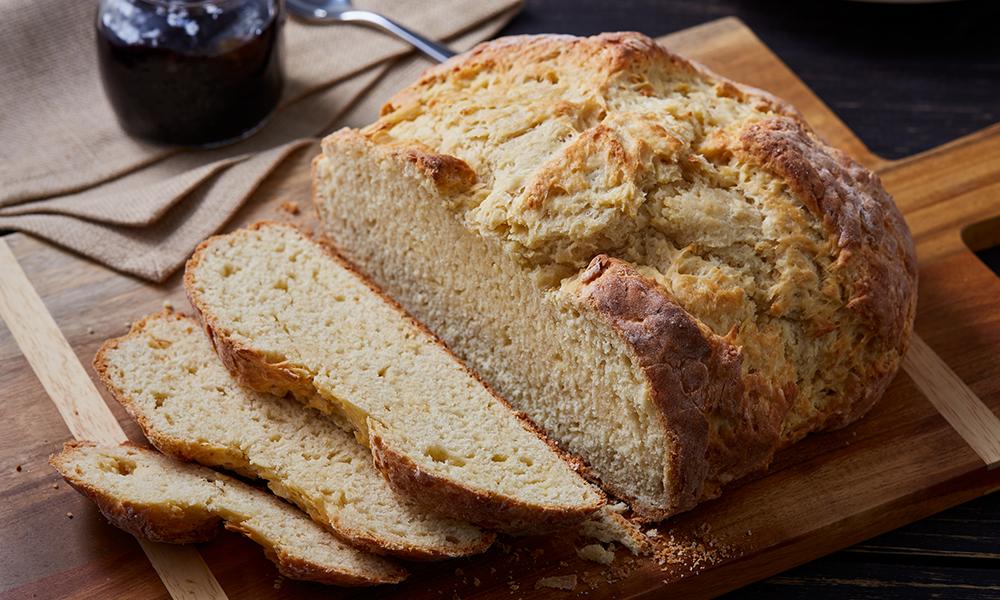 Photography by Shane Folkertsma
---
Invaluable Irish Imports
St. Patrick and Soda Bread
A few times a year, usually leading up to St. Patrick's Feast Day, the wonderful aroma of Irish soda bread fills our house. My daughter has been making it since she first learned to bake, because it's so easy and uses few ingredients.
While soda bread is often attributed to the country of Ireland, it did not originate there. Native Americans were the first to be documented using pearl ash, a natural form of soda derived from wood ash, to leaven their breads. This process was discovered later when bicarbonate soda was introduced to the U.K. in the 1830s.
This early form of baking soda, combined with other basic ingredients such as salt, soft wheat flour and soured milk, was an affordable solution in Ireland, a poor country and one in which famine was becoming an increasing problem. This made the quick bread an absolute necessity, and would later become part of Ireland's culinary identity.
It's only fitting, then, that Irish soda bread is a staple on St. Patrick's Day. Just as soda bread is an adopted culinary icon of Ireland, its patron saint was also not originally from Ireland. The exact location is not known, but he was born in either Scotland or Roman-controlled Wales to a Christian deacon and his wife around the year 390. Since his father was also a Roman-British army officer, Patrick was likely of Roman descent. During his youth, he lived very comfortably and was not religious, but a turn of events changed all that. At age 16, he was captured by Irish pirates and sold into slavery. He was imprisoned and forced to do labor as a shepherd for six years. It was during this time that he had a conversion and spent most of his time in prayer. He eventually escaped back to his family, but received a vision in a dream which called him back to a hostile and pagan Ireland to spread the Good News.
So as you celebrate the life of Saint Patrick this March, an adopted part of Irish culture that has been popularized so well, consider baking some soda bread; a simple recipe that we enjoy every year!
---
Irish Soda Bread
(a sweeter variation)
4 cups all-purpose flour (plus more for surface)
4 tablespoons sugar (plus more for sprinkling)
1 teaspoon baking soda
1 teaspoon salt
5 tablespoons butter, cut into tiny cubes (or grated while chilled)
1 egg (beaten)
1 ¾ cups buttermilk (cold)
1 teaspoon Meyer lemon or orange zest
Preheat oven to 375° and line a baking sheet with parchment paper. In a small bowl, whisk the egg, buttermilk and lemon or orange zest and set aside. In a large mixing bowl, combine flour, sugar, baking soda and salt. Using a fork, cut in the butter and blend into tiny crumbs (fingers will work too). Add the buttermilk/egg mixture and gradually stir until just combined.
On a floured surface using floured hands, slightly knead dough and shape into a ball without overworking. The dough should be rough in appearance rather than smooth and elastic. Carefully transfer to the center of the baking sheet. Using a knife, score a cross on top of the dough and sprinkle with a teaspoon of sugar.
Bake for about 45-55 minutes or until golden brown on top and a toothpick comes out clean. You may want to tent with foil the last 10 minutes to prevent overbaking on the outside. Transfer to a rack and let cool slightly before slicing. Delicious served warm and topped with butter or fruit preserves!
---
Michelle DiFranco is a designer and the busy mom of three children.