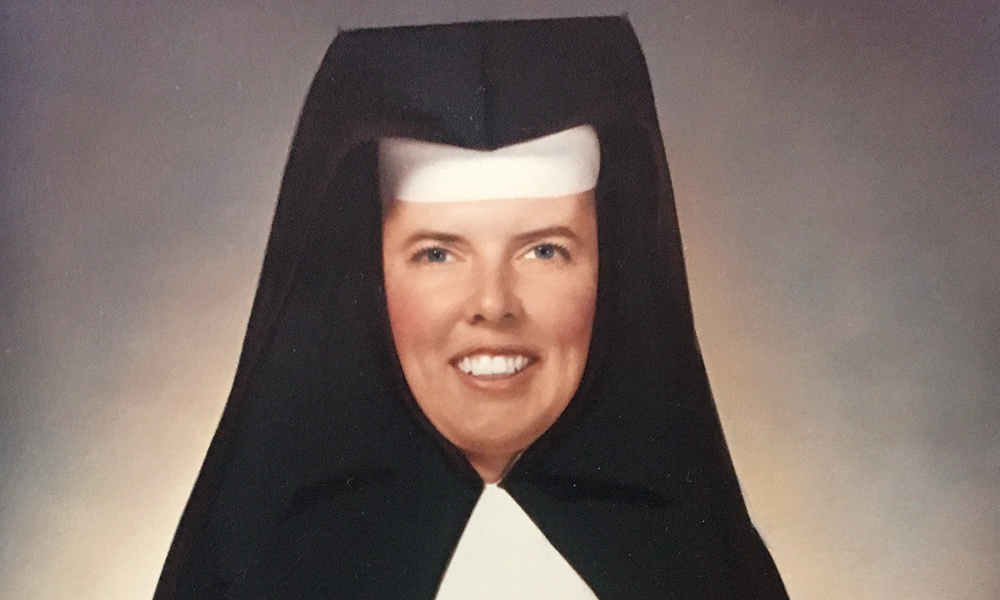 ---
A Force to be Reckoned With
Sister Claude Power, PBVM, First Superintendent of Catholic Schools
When Bishop Pierre DuMaine appointed Sister Mary Claude Power, PBVM, to the position of superintendent of Catholic Schools in the new Diocese of San José, he, of course, knew what he was doing.
Sister Claude was knowledgeable, innovative (even pioneering), and resolute in establishing, supporting, and nurturing an exceptional Catholic school system in the diocese. She knew that achieving her goal — an excellent Catholic education provided to every student — was only possible through the pastor, principal, faculty, and staff of every school. She had high expectations of all those who worked with her and for her. She engendered trust, respect, and affection because she supported, validated, challenged, and guided her colleagues.
On a more personal level, Sister Claude was compassionate, empathetic, funny, and fashionable. She didn't have a large wardrobe, but she was always beautifully, classically dressed. (She could tell you the exact days of Nordstrom's semi-annual sales.)
Sister Claude truly knew the people she worked with because she asked them about their lives, and she cared to remember the answers. When we had time for a personal conversation, she always started with, "Now, tell me about your youngest son, the one that ... (fill in some anecdote that I had previously shared with her)."
She consistently asked about and kept track of the well-being of those who were ill, hurt or needy. She was pragmatic and sometimes even full of solutions. I had a friend who was very ill with AIDS. Sister Claude knew him as a teacher and asked me to set up a visit with him. When she arrived at his home, she presented my friend with 10 lottery tickets, which was her way of telling him he had a future! (Indeed, though he didn't win the state lottery, he got better and lived two more years.)
A lifelong learner, she stayed abreast of current events, technological innovations, and educational theories and could speak knowledgeably about many issues. She was perceptive, down-to-earth, and eminently practical. More than once, when I was about to write a professional document with legal terminology, she would ask me to "please put that in 'fishy and ducky' language" for everyone.
Sister Claude's family was a source of great love and pride for her. She was very close to each of them. She could tell you what her nephews had recently accomplished, and she was fond of saying that she couldn't cook but that she was great at baby-sitting. She loved her community and, although education was her "thing," she spoke with respect and pride about the accomplishments of her Presentation sisters in their various ministries. She was not sentimental or even traditionally affectionate, but she deeply cared. That caring appeared to be the basis for her vocation and her relationships.
I was privileged to work with Sister Claude and to enjoy a personal relationship with her. In my experience, Sister Claude modeled what it means to be ethical, caring, passionate, fair, and just. She was a force to be reckoned with — and I believe that force was fueled by love.
---
Linda Bearie served at the Diocese of San José for 32 years, first as a teacher and vice principal at Archbishop Mitty High School and later as diocesan director of human resources and chancellor. She is now retired.