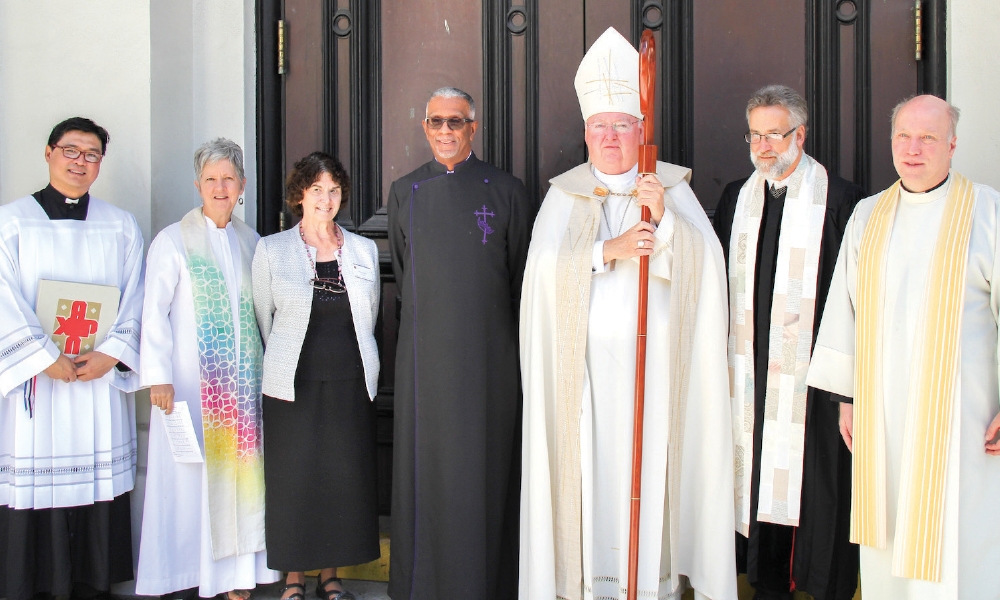 ---
That All May be One
Monsignor Fran Cilia reflects on Bishop McGrath's Commitment to Ecumenical Dialogue
I first met Bishop McGrath sometime in the 1970s when I was a seminarian. Eventually, we were both priests of the Archdiocese of San Francisco until the erection of the Diocese of San José in 1981, when I came to San José while he remained in the City.
Bishop McGrath adhered to civility in dialogue and conversation, preferring to open doors and windows rather than close them. His episcopal motto, "Together in Christ," reflected this attitude.
In all matters, including those of diocesan administration, pastoral ministry, and liturgy, Bishop McGrath was rooted in the vision of the Second Vatican Council, which taught that work toward ecumenism is one of the duties of the baptized and, in a particular way, of those in the episcopacy. According to Church teaching, the bishop is the sign of unity in each local Church, among his own people and beyond, as a member of the Episcopal College. Ecumenism is based on dialogue, which must be civil.
Bishop McGrath often invited Christian and non-Christian leaders to major diocesan events and gatherings at his home. For many years, a local Rabbi attended Christmas Eve midnight mass. After some anti-Muslim attacks, Bishop PJ participated in an interreligious prayer service for peace organized by the local Muslim community. He was one voice among many.
From him, I learned that one of the vital responsibilities of the baptized is praying and working toward ecumenism and that the oft-quoted prayer of Jesus, "So that they may all be one" (Jn 17: 21 NABRE), must be mine and must be the prayer of all. And our work follows prayer.
Communication and civil dialogue are always fruitful, given the alternatives. Personal relationships bear fruit in understanding differences and in the appreciation of that which unites us, despite differing theologies and beliefs. Bishop PJ practiced civility, even — or especially — with those with whom he/we had disagreements.
From his arrival here, Bishop McGrath was, for me, an older brother, friend, and boss. These central relationships helped me to grow as a Christian and as a priest.
I miss all about PJ: his love of the Church and the Diocese of San José, his humor, his care and concern for my parents, and his wise counsel. He would call when his iPhone, iPad, or Netflix account was on the fritz. He did not appreciate it when I told him he was less technical than my 90-year-old mother. But it was true. And I will miss that, too.
---
Msgr. Francis Cilia is a second-generation native of San Francisco and the oldest of 12. Ordained in 1979, all his pastoral assignments have been in what is now the Diocese of San José. He is currently the pastor of Saint Clare Parish. Prior to that, he was Vicar for Clergy and Vicar General since 1998.