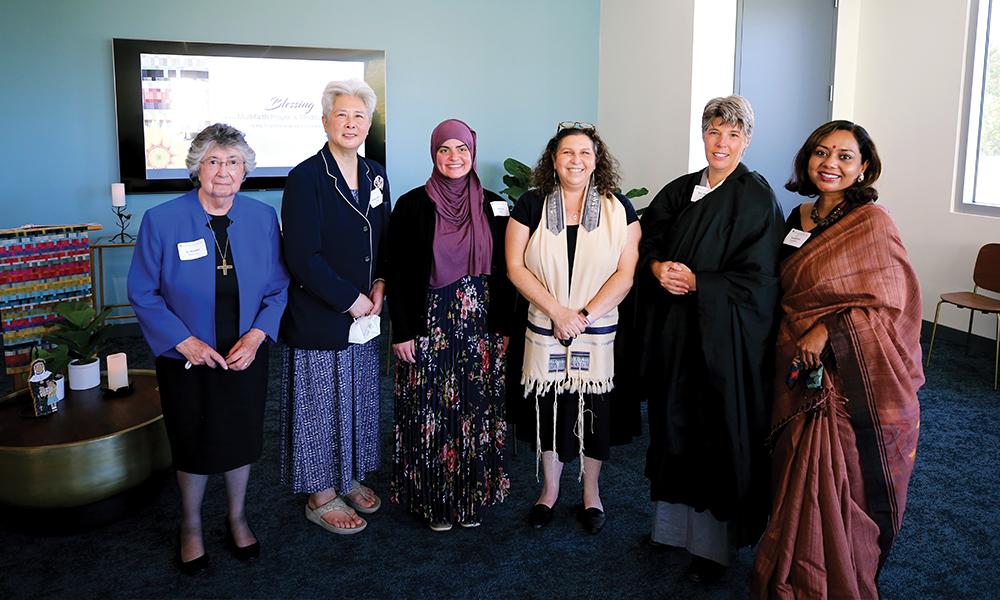 ---
Women of Faith Leading the Way
In our Catholic tradition, the stories and legacies of women leaders convey a bold yet humble and sometimes unpublished response to God's calling. Such is the case in our own Notre Dame legacy. Saint Julie Billiart and Françoise Blin de Bourdon, founders of the Sisters of Notre Dame de Namur, confronted barriers built by established leadership and created new pathways to forward the mission they had received from the good God. And, despite the hurdles they faced, these two women, with gifts and skills that complemented each other, found strength, courage, and a collaborative partnership.
Today, our work at Notre Dame High School in San Jose continues that legacy and responds to the signs of the times within the educational framework experienced by our students and led by faculty and staff. Joining us in that important work are three Sisters of Notre Dame de Namur whose presence, gifts, and example evoke that same sense of spiritual leadership we find in the stories of Saint Julie and Françoise.
Sister Gillian Wallace, SNDdeN, the newest Sister of Notre Dame de Namur in the province, joined the religious studies faculty in August 2021. She graduated from Notre Dame High School, Belmont, and UC Berkeley before earning a doctorate in anthropology from Cambridge University in England. Her formation with the Sisters and her years as a professor at Notre Dame de Namur University serve her well as she works with upper-level philosophy students and introduces the first-year students to St. Julie Billiart and Françoise, the Sisters of Notre Dame de Namur and the Hallmarks.
Sister Carol Shoup, SNDdeN, has been a member of our learning community for more than ten years. She serves as the coordinator for the Learning Commons, a flexible space that encourages student collaboration while still allowing for a quiet workspace. Her work with creation, spirituality, and education within the congregation led her to a deep friendship with Sister Dorothy Stang, SNDdeN, who was martyred in 2005 in Brazil fighting for climate change. Sister Carol's kindness and compassion make her a favorite of Notre Dame students.
Sister Rosalie Pizzo'52, SNDdeN, is a member of the Notre Dame High School Board of Directors and brings her knowledge and expertise in Notre Dame and our diocese to the work of the board and the mission integration committee. A longtime member of our learning community, Sister Rosalie has experienced the evolution of Notre Dame San Jose to the institution it is today. Our Catholic perspective calls us to dialogue with one another and gather together a multi-faith, multicultural community from whom and about whom we learn together to advance the common good. In the fall, Sister Rosalie led the blessing of the Multifaith Prayer & Meditation Room in the Center for Women's Leadership on the Notre Dame campus, closing with these words:
---
All: "Let us bend our hearts to be as wide as the world,"
Hearts that listen with compassion.
Be peacemakers, build trust that unites,
Rather than walls that divide,
Where our differences may be seen as gift,
That no one is left out and
All have the same chance to succeed
Celebrating every color, creed and culture.
So before we leave this, our Homeroom,
Let us extend our hands in blessing.
Join me now as we say together,
All: Loving God, may St. Julie's spirit of goodness
So very much alive and well in all facets of
this school, deepen
And above all may God's all-embracing Spirit
Permeate this sacred space,
And the hearts of all who grace this room now
And for many years to come. Amen.
---
These Sisters work alongside the women and men that serve as faculty and staff at Notre Dame San Jose. In and out of the classroom, their spiritual leadership is a blessing.