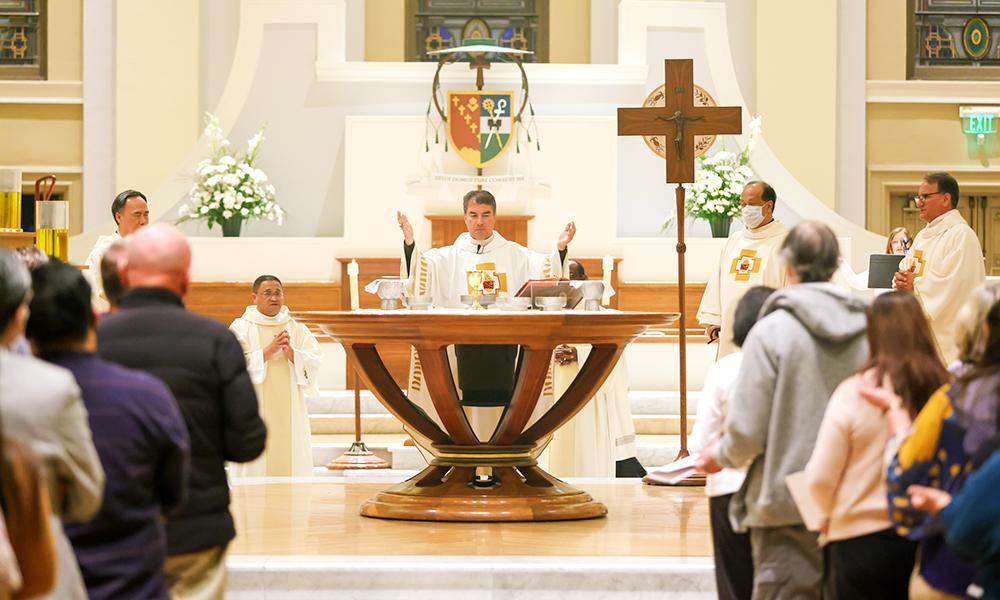 ---
Dear Sisters and Brothers in Christ
Dear sisters and brothers in Christ,
I am grateful that so many have been participating in the diocesan year of prayer as we prepare our hearts and minds to participate in our first-ever Diocesan Synod. We also look forward to participating in the Eucharistic Revival, which the U.S. bishops have called for, to begin on the Feast of Corpus Christi (June 19, 2022).
Year of Prayer and Diocesan Synod
In anticipation of our first-ever Diocesan Synod, I have called for a year of prayer so that our hearts and minds might be attentive and open to the promptings of the Holy Spirit. The broad question that I have posed for the synod is, where does our local church in Santa Clara Valley need and want to be in 2031 when we celebrate our 50th anniversary as a diocese? What ministries do we need to develop and maintain to be faithful to the mission of the Church, to be faithful to Jesus Christ?
Please continue to engage in prayer for our diocese as we approach this critical event, gathering as God's people, listening to the Holy Spirit, dreaming, and imagining what God wishes to do with our help into the future.
Eucharistic Revival
Jesus says, "I am the living bread that came down from heaven; whoever eats this bread will live forever; and the bread that I will give is my flesh for the life of the world" (John 6:51).
The Eucharist is the gift of Jesus Christ to the Church. He offers us himself! Jesus is the Word, who informs and molds our hearts and minds in love, truth, and beauty. His Body and Blood, the Bread of Life and the Cup of Salvation, nourish us on the long and sometimes arduous journey of life and faith.
We look forward to participating in family, parish, diocesan, regional, and national components to guide and nourish us on a three-year journey of learning about, appreciating, and deepening our understanding and love for Jesus' presence, love, and sacrifice for and gift to us!
I invite us to be attentive to the information, material, and guides for our families and parishes coming soon through our website and social media.
May we open our hearts and minds to encounter Jesus in the Eucharist and allow him to dwell in our hearts and motivate our actions of love, justice, and peace in the world.
Bishop Oscar Cantú
---
The monthly themes for the remainder of the year are the following:
June
Openness to the Holy Spirit 
Appreciation of and Devotion to the Eucharist
July
Young Adults and Parents
Grandparents and Elderly
August
Children and Youth in Religious Programs 
For our clergy 
September
Refugees, Migrants
Care for Creation
October
The Gift of Discernment
Praying the Rosary
November
Communion with and Intercession of All the Saints
For the Deceased
December
Listening to the Holy Spirit
The Gift of Peace and Joy