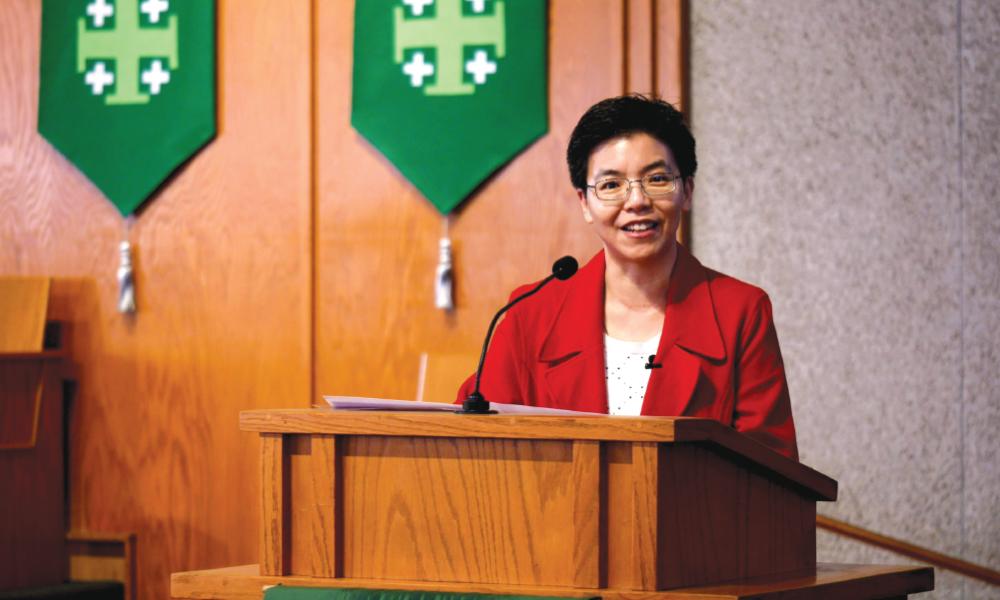 ---
Catholic Social Teaching Starts at Home
Alice Lee immigrated to the United States 21 years ago when she joined Saint Athanasius parish, where she remains an active member to this day. Serving in different ministries as a catechist, lector, eucharistic minister, and a Saint Vincent De Paul volunteer, she considers her most important and rewarding job to be that of a wife and a stay-at-home mom to her four children aged 10 to 28. She reflects on her journey as a disciple and how her understanding of Catholic Social Teaching has grown.
Tell me about your long-time service at Saint Athanasius.
I assist in the parish religious education program while serving on the parish finance and pastoral councils. Additionally, I volunteer as our Vacation Bible School director, the Christmas Giving Tree coordinator, and as a Saint Vincent De Paul (SVDP) volunteer. Liturgically, I serve as a lector as well as a eucharistic minister.
Could you share about Saint Athanasius' recent community service award?
Saint Athanasius Parish was recognized as a Hometown Hero by the Community Service Agency of Mountain View and Los Altos. Our pastor, Father Walter Suarez, and a few delegates, including myself, accepted our award at a luncheon on September 21st, 2022. I am proud to be a Catholic and a parishioner of Saint Athanasius. But more importantly, my understanding of Catholic Social Teaching has grown because the opportunity to live that teaching is right here, right now.
Why are Catholic Social Teachings (CST) important to you personally?
When my family arrived in the United States twenty-one years ago, I remember walking into Saint Athanasius Church for the first time with our outdated clothing and thick accents. Our Irish priests, Father Diarmuid Casey and Father Kevin Corrigan, welcomed my family with their heart-warming hugs. Looking around, I saw parishioners from diverse cultural backgrounds. A few passionate parishioners befriended my family. We knew that we were in the right place.
Growing up in a tight-knit family with limited financial resources, my parents still managed to be unfailingly generous. They taught me to care for the most vulnerable in society, whether convenient or inconvenient, because they saw God in everyone they met. That is the crux of Catholic Social Teaching: to see God in everyone and everything.
Is there any specific moment, event, or person that inspired you?
Two parishioners, Lina Taskovich and Jim Cesano, inspired me to join the St. Vincent de Paul ministry. Lina was in her 70s when I first met her in the SVDP food closet. When we first met, she was entering client names into a laptop, and I recall that I was amazed at how she didn't let her age stop her from serving. Jim was and is always ready to help. He also worked at the food closet, often arriving 1-2 hours early to open bathrooms for the waiting crowd. He is a quiet and humble person who never boasts about his charitable deeds.
Is there an aspect of CST for which you feel particularly strongly?
I am passionate about the teaching that every life is sacred from natural conception to natural death because we are created in God's image and likeness. When we acknowledge that God is our creator and we are part of his family and his plan, we will develop a sense of awe and respect for God's creation and love for our brothers and sisters.
When have you been the most inspired and challenged during your volunteering?
As a volunteer coordinator of different events, lack of funds and shortages of volunteers are always challenges. But I trust in the Lord, knowing that it is His work and will that we are trying to accomplish. He always provides, which always inspires me.
What would you say to Catholics who are thinking about getting involved?
Look around the parish and see where the needs are. Catholic social teaching starts at home. As Mother Teresa said, one is the magic number. Start small by serving only one person, and God will show you the way.
---
Responses were edited for clarity.