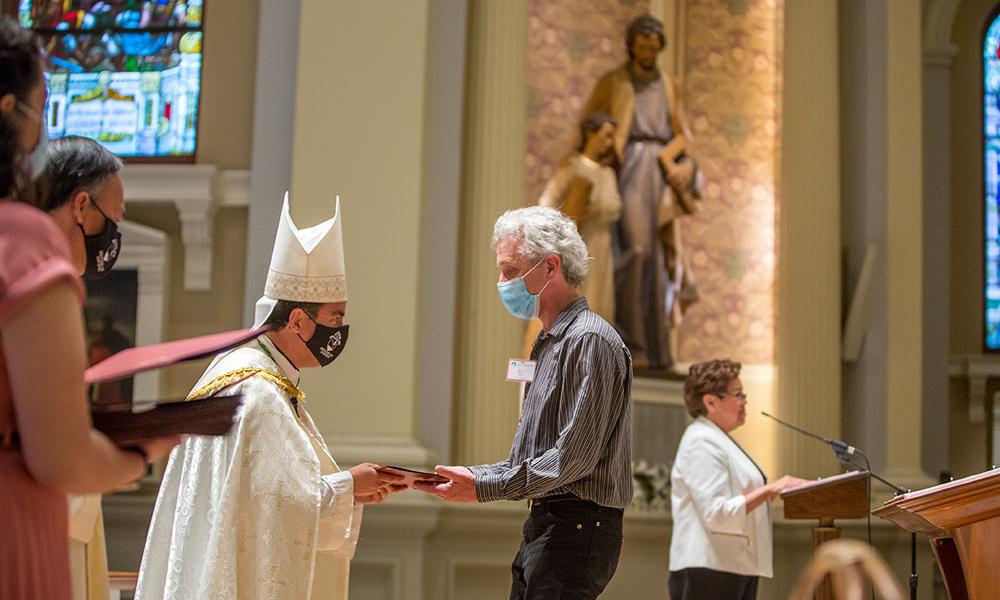 ---
Discovering Purpose, Focus, and Confidence in Ministry
When people ask me what my ministry is, I tell them RCIA (Rite of Christian Initiation for Adults). I was honored when they asked me to come back after one year of preparing for confirmation (even though I'm pretty sure they asked everyone to come back). I joined, thinking it might be valuable to demonstrate that even a person like me was part of the church. I realize now how this made sense because I knew where I came from, but no one else did. So instead of being amazed at my mere presence, they were merely grateful I could help people find chapter and verse and move furniture. The team recommended that I apply to the Institute of Leadership in Ministry (ILM).  ILM is 25 Wednesday nights and 8 Saturdays a year for three years. I made friends, had fun, and was thoroughly stimulated both spiritually and intellectually, but this reflection isn't about the ILM. It's about the impact the ILM had on my ministry.
First off, I found RCIA was not my primary ministry. It turns out it is my family and friends, and even coworkers. And not in a boring, rehearsed, marketing way. Nope, now things just pop out of my mouth. ILM taught me things about the Catholic Church I did not know that I did not know. Some were fascinating, some were surprising, and some were different from what I thought. Some were thoughtful, some moved me, and they all seemed to support and build on each other. When I am with people and reminded of one of these fascinating, surprising, or contrary ideas, I feel comfortable telling the ILM side of the story. Because the ILM curriculum is so well planned by the administrators and so well delivered by the instructors, the teaching is sound and not controversial. It has always been well taken and even fun.
Second, I found I was one of my ministries. This is the most fundamental ministry. It's the only one we all share, even hermit monks. I didn't know I was supposed to have a personal relationship with Jesus. I didn't even know I could. It turns out that is the first order of business at ILM. Jesus is a person. God the Father is a person. ILM worked hard, a whole quarter, teaching me how to start a relationship with them. Three years later, I still participate in my ministry to myself with the same dedication as if it were a ministry to someone else who depends only on me.
Third, I came back to the RCIA with confidence. Confidence is important when teaching and guiding people. People want a competent guide when they are searching. Confidence shows competence. ILM taught me that confidence isn't egotistic. I am confident and humble. I have a long way to grow before I will have the confidence to be the director of any ministry. However, I have enough knowledge, experience, and confidence to take assignments, plan, and deliver them. My first month back in the RCIA after graduating ILM, my director asked me to reflect on our gathering. I used a few of the tools I picked up from my three years and made six new friends.
The purpose of all ministries is to serve the people of God. The ILM is the ministry of ministries because it serves the ministers. I graduated from ILM with a bigger head and heart, binders filled with presentations, a small bookshelf, and emails of friends in other parishes that I can go to when I get an assignment that needs some more details. Alternatively, just to reflect.