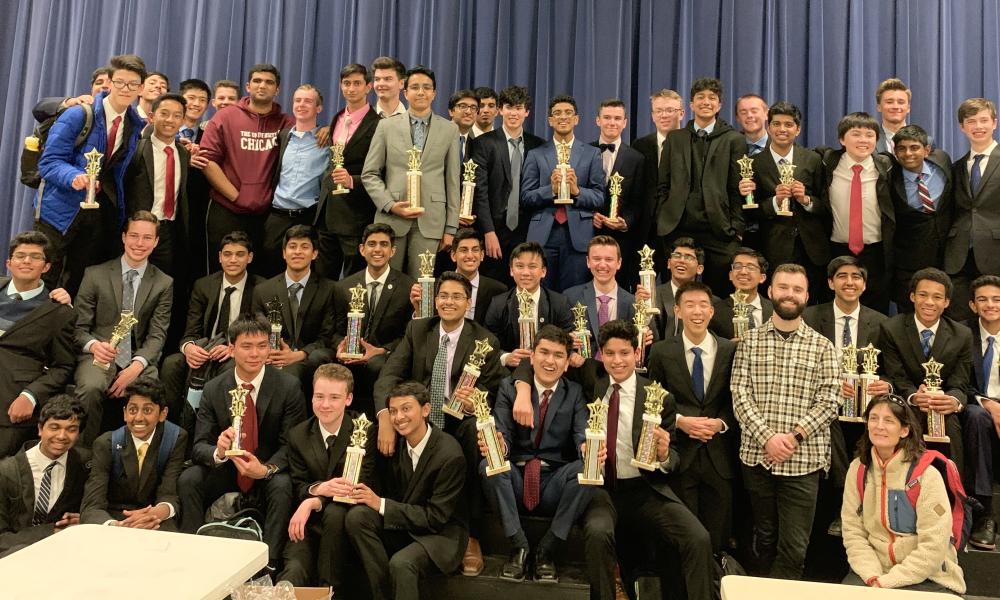 ---
Bellarmine Speech and Debate Team Concludes Season With Impressive National Tournament Results
Bellarmine's Speech and Debate Team wrapped up its 2019-2020 season with a very strong showing as they competed virtually at the National Speech and Debate Association (NSDA) Tournament held during the week of June 14-20.
Among the participants was rising senior Eric Gottlieb in the Lincoln-Douglas debate, whose success was the best a Bellarmine Lincoln-Douglas debater has done at Nationals since alumnus and coach Matt DeLateur competed at Nationals as a senior in 2012, making it to the semifinal round.
Rising seniors Adarsh Hiremath and Surya Midha were ranked 5th in the country in Policy Debate, and their classmates Brendan Foody and Avi Upadhyayula were ranked 8th in the country in Policy Debate. Additionally, graduating senior Anuj Kothari and rising senior Ashok Ramkumar were in the top 60 in Extemporaneous, and in Expository (or Informative Speech at nationals) Sahil Saoji of the Class of 2021 made it in the top 60. Ramkumar, coached by DeeDee Sullivan, took 6th in the country in International Extemp. Ramkumar, Gottlieb, Hiremath, Midha, Foody, Upadhyayula, and rising junior Ram Gorthi (who made it to the quarterfinal round of World School's Debate) all earned automatic qualification to attend the National Tournament next year without needing to compete in the national qualification tournament.
"In any regular year, getting one student to the top 14 and thus earning an auto-qualifier would be a huge achievement," noted coach Aaron Langerman. "To have so many individuals getting auto-qualifiers for next year is unprecedented and really exciting.
The Bellarmine team also received the School of Outstanding Distinction, an honor that is only awarded to the top 10 schools in the country and based on the total sweepstakes points at the National Tournament. "Since the NSDA does not rank the schools 1-10, this award is the highest award anyschool can receive in a given year," noted Langerman. "We're super proud of the Bells for reaching this milestone for another year in a row."
Coach Langerman also noted that many of the students are already preparing for next season, with many attending virtual debate camp. "We're excited to continue building on the awesome work and momentum that our students keep bringing to the table."
Since 1931, the National Speech and Debate Tournament has elevated public speaking, and every summer more than 6,000 middle and high school students compete in the largest academic competition in the world to debate current events, voice their views, and share their stories. This year's Nationals, originally scheduled to take place in Albuquerque, New Mexico, occurred remotely due to COVID-19 restrictions.