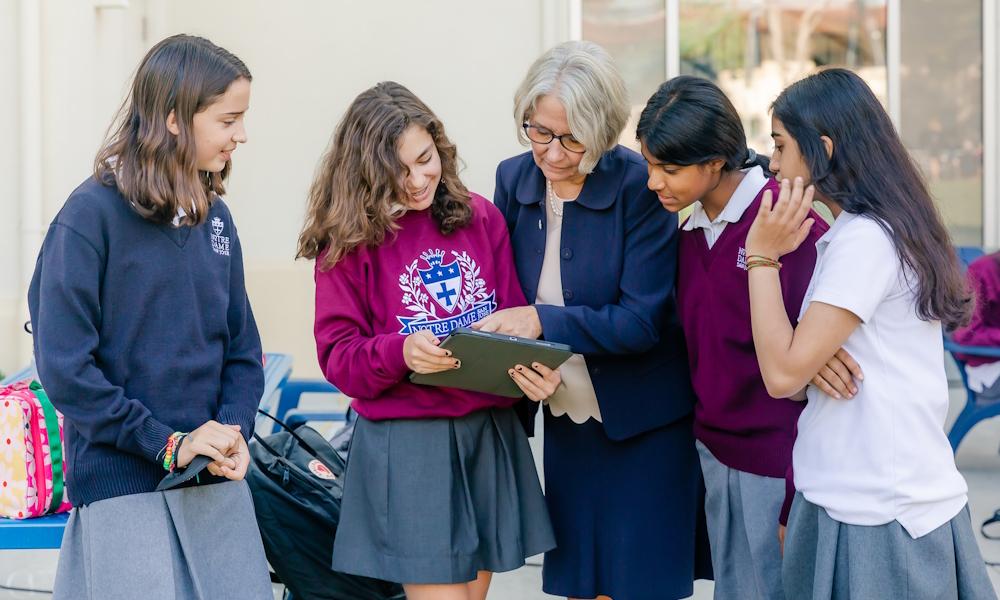 ---
'All In' From the Beginning
Disciple Profile: Mary Beth Riley
Mary Beth Riley is retiring in June as the Head of School for Notre Dame High School in San José, following a 38-year career as an educator and 12 years as head of school for NDSJ. She came to Notre Dame in 1985 as a French teacher and served as director of admissions from 1998 until 2006, when she was named principal. Mary Beth has spearheaded the development of programs that prepare young women for college and life beyond college and foster a deep understanding of social justice in a global community. She has been recognized by the Silicon Valley Business Journal as a Woman of Influence and received the Educational Excellence Award from the National Catholic Educational Association. Ashley Rae Mathis, who will be succeeding Mary Beth, will be profiled by the Valley Catholic online in July.
What attracted you to the field of education to begin with?
I did not have a career plan and was looking at a variety of options when I stumbled on Notre Dame.
How did your career at Notre Dame begin?
I came to ND as a guest speaker in a Religious Studies class and fell immediately in love with the students. I have a bachelor's degree in French and a master's in Teaching French. When a position opened at ND, I was 'all in'. The journey from classroom teacher to head of school is deeply entwined in the mission of Notre Dame, which is devoted to educating young women leaders in a richly diverse and urban setting. Thirty-seven  years later, I am still 'all in.'
What has inspired and challenged you the most as an educator and community leader?
Bringing awareness to the importance of women becoming leaders and taking their place in leadership roles, educating them to that end, has inspired me every day. The work is transformative. Representation of women in leadership in all professional fields hovers at less than 20%, woefully below a 50% expectation. Working to affect change has fueled my purpose every day.
What role has your Catholic faith played throughout your tenure as head of NDHS? Or, put another way, how has faith transformed you and your leadership?
The mission of the Sisters of Notre Dame, articulated by their founder, St. Julie Billiart, has guided my tenure. Three quotes from her include "Teach them what they need to know for life," "Have hearts as wide as the world," and "How good is the good God?" I have relied on her words, inspired by her Catholic faith, to strengthen and support me in my faith and Notre Dame journey. She never lets me down.
What is next for you?
People have asked me this question all year. And I do not have an answer. I trust that life will provide me with new opportunities. It has been a gift and a privilege to serve. High school students, teachers, and colleagues feed your soul. Every day there is purpose and time to grow together. What an incredible job!
If you could sum up your experience in education in a brief statement or one word or message, what would that be?
I appreciate all the schools in our diocese and am grateful for my time working with them. My four children attended Catholic schools at St. Clare, Bellarmine, St. Lawrence Academy, and Notre Dame. Across the diocese, we should all support the gift of our Catholic schools and work to keep them strong.
Is there any message you wish to leave with the NDHS community and the greater diocese?
To the Notre Dame community, I am so grateful for you, and I love you!
---
Born and raised in Chicago with her brother and four sisters, Mary Beth and her sisters attended a school very much like Notre Dame in the Chicago area. She has four children: her son Paddy is a professor of history at Reed College; her daughter Eliza works for the College of Adaptive Arts; her son Daniel is an educational leadership consultant; and her daughter Maeve is an executive at a fundraising firm. Mary Beth is a backyard farmer, who Facetimes regularly with her three grandchildren.