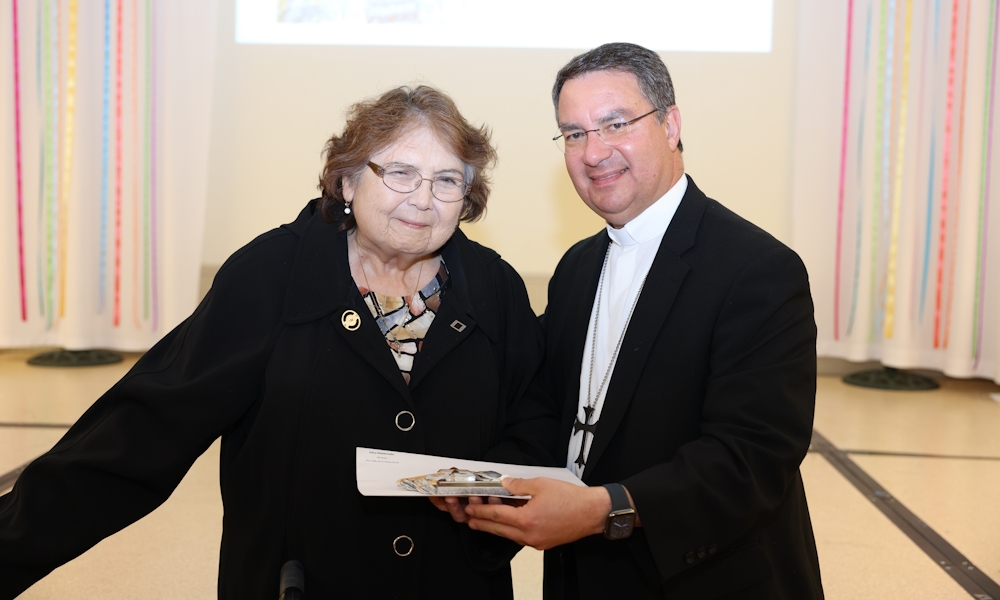 Edna Maldonado and Bishop Oscar Cantu
---
40 Years A Catechist: Reflecting God's Love
Speech Delivered at the St. Pius X Award Dinner May 25, 2023
Good evening, everyone, His Excellency Bishop Oscar Cantu, Clergy, Catechists, Irma Alarcon and guests. My name is Edna Maldonado and it is my honor to share a few words about my journey as a catechist.
Saint Paul tells us in Colossians 3:23-24, "Whatever you do, do from the heart, as for the Lord and not for others, knowing that you will receive from the Lord the due payment of the inheritance" (Col 3:23-24 NABRE).
My ministry as a catechist started about 50 years ago when the late Father Jose Antonio Medina, gave a few of us, including Thelmita and Juanito Melendez, a book to read about the work of a catechist. He then called us to meet with him and asked what we had learned from the book. I told him that I had learned that in every situation, in whatever task, we are to serve God and reflect his love. The Melendezes responded likewise. He then expressed that he wanted me to take over the Rite of Christian Initiation for Adults (RCIA) and Mr. and Mrs. Melendez to take over the Rite of Christian Initiation Adapted for children.
When I agreed I really had no idea what I was getting myself into. The first few years were not easy; there were some difficult times as well as some joyous and incredible times. Slowly we began to see the results of faithful dedication to our task as catechists. God's word and the transforming power of the Holy Spirit were evident in the way that the people prayed, how they shared with each other and how they turned to God with great faith to help them in most troublesome times.
For example, when the mother of one of my students was very sick and could not get out of bed. My student, in desperation, called the family together and said, "Everyone, come here! We are going to pray for Mom, that God will help heal her." The entire family prayed, and she was healed. The mother later told me, "You should have seen my son and how he prayed so fervently." As a catechist and his teacher, I was overjoyed that he had internalized the reality of reflecting God's love in every situation.
 There have been many incredible experiences through the years, some have been nothing short of miraculous. Others have been difficult. There have also been funny and joyous stories. As Catechists we are called to be faithful in teaching and reflecting God's love in every situation and then we must stand back and allow the Holy Spirt to work in the lives of our students . We must always remember that, as Paul said, we are serving the Lord Jesus Christ and not men and we will receive our inheritance as reward if we remain faithful. May we always be faithful to our call. Thank you.